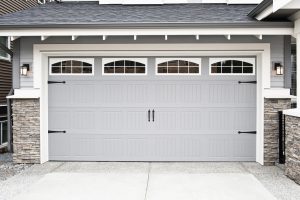 From your beloved sports car to gardening equipment, the garage is an essential storage space for the home.
When it comes to curb appeal, buying a garage door can add an upgraded look to any abode. Before you decide which garage door to install, read this helpful guide to assist you in choosing the perfect garage door for you.
Select a Style
When buying a garage door, consider the style that you prefer. For example, a flat panel front with glass inserts can give your home a modern touch.
Classic carriage doors are beautiful on rustic and contemporary homes alike, and they swing in or outward to accommodate larger vehicles. You can also choose garage doors with raised panels that add a touch of depth and dimension to the front of your home.
Just make sure that the style of door you select will reflect the current look of the rest of the house.
Buying a Garage Door: Material
Garage doors come in a range of materials that can enhance their function as well as their look. Wood garage doors will create a warm and welcoming aesthetic, and they can be finished or stained in a range of colors.
Steel garage doors are quite durable and will handle a lot of wear and tear. They also include a range of colors, and steel is the most popular and economical choice.
Understanding Layers
You can choose from several different construction levels when you look for a new garage door. A single-layer door is stamped from one sheet of galvanized steel and has a low price point, but it's also not very insulating.
A double-layer door uses a galvanized steel skin attached to the outside. Underneath is a thick layer of insulation, usually made of polystyrene or polyurethane. A layer on the back fo the door adds a bit of soundproofing and extra insulation.
If you live in an area with extreme hot or cold temperatures, a triple-layer door works best. These garage doors are similar to a double-layer door, but they have an extra layer of galvanized steel on the inside. This makes them the strongest and most secure option available, and you can also choose your level of insulation.
Spruce Things Up with Hardware
If you want to take your garage door to the next level, consider adding decorative hardware to the exterior. You can add hinges, large handles, or beautiful glass windows near to the top of the door for an attractive touch.
Don't forget to select a garage door opener that will work with your new door. This will make opening and closing the door much easier, and give it the function you need along with its beautiful new look.
Enhance Your Home with Garage Doors
No matter what type of home you own, buying a garage door can give it a brand-new look. Select your favorite style, color, and material as well as your preferred construction type to give you the functionality you need.
Check out our website for a wide selection of garage doors, accessories, and plenty of helpful garage door tips.