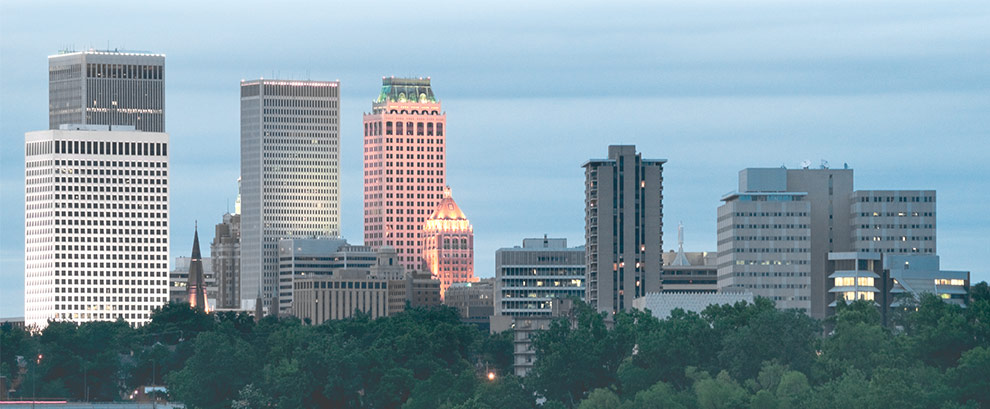 Garage Door Repair Tulsa
FREE ONLINE QUOTE Click Here to Call Now!
The Discount Garage Door team is the preferred choice for most Tulsa and Tulsa area overhead garage door service needs. If you want your garage door to look great and function properly for your safety and security call Discount Garage Door. Whether you live in Owasso, Jenks, Bixby, Broken Arrow, Sapulpa, Tulsa, or anywhere in northeast Oklahoma, we can assist you with affordable garage door repair, service and installation. From garage door inspections and routine, yearly maintenance to broken torsion springs and off-track garage doors, our trained professionals are ready to handle any repair job you might have.
We have made it our business to specialize in residential and commercial overhead garage door repair. We are committed to offering the highest quality garage door repair service and are equipped to be your complete solution from start to finish. We have installed and serviced virtually every brand and manufacturer of overhead garage doors and garage door openers. In the years we've been servicing overhead garage doors and garage door openers for homeowners in Northeast Oklahoma, there isn't a single manufacturer or brand of residential garage doors that we have not been able to install or repair to our customer's satisfaction.
A spring replacement is one of the most common garage door repairs required. If you are having or have ever had trouble with your door not opening properly or not opening at all, it is likely a problem with your torsion springs. They especially tend to need replacement in the cold winter months when springs are more likely to freeze and snap under pressure. These springs come in varying sizes and act as a balance, lifting over 90 percent of the garage door weight. This allows the door to easily open and close manually or with the assistance of an opener. Trying to use the opener when the springs are broken can place increased stress on the opener, possibly cause that and other door and opener parts to break as well.
Discount Garage Door's replacement springs ensure a longer life expectancy for the entire garage door system. While this may seem like a job that an enterprising home owner can tackle on their own, you should always leave this job to the professionals. Torsion springs are under extreme pressure, and repairing, installing or replacing them is always dangerous business. If you are not properly trained in how to handle a torsion spring safely, you could be risking extreme injury, including loss of finger or limbs, and even death. The Discount Garage Door team is specially trained to handle torsion springs safely and efficiently so you don't have to risk your safety to get your garage door working properly again.
The cable is also an extremely important piece of equipment that ensures smooth and efficient operation of your garage door. They hold the door's weight as the door moves up and down. When a cable breaks, your door becomes inoperable and needs to be repaired in order for it to function properly. Like with a broken spring, you should not try to operate your door with a broken cable. It will put immense pressure on other door parts that are not built to handle the full weight of the door. These parts could break as well, causing additional repair fees and making it dangerous for anyone in the vicinity of the garage door at the time.
Also like torsion springs, you should also never try to replace garage door cables on your own. Like the torsion springs, the cables are an essential part of the garage door system that bear a lot of tension. Replacing them can be very dangerous if you are not properly trained to do so. The Discount Garage Door team is specially trained to repair and replace garage door cables safely and efficiently so you can have your garage door back in working order in no time. The next time you are faced with a broken garage door cable, trust your repairs to the industry leader, Discount Garage Door.
An off-track garage door is among one of the most critical repairs there is for a garage door. It can be caused by anything from a broken cable to an obstructed path or even being hit by a car—this happens more often than you would think! Nevertheless, this is not a do-it-yourself project as the door can easily fall off the track and cause serious injury. The average garage door weighs anywhere between 150 and 250 pounds, depending on the materials used and the level of insulation. You definitely do not want that falling on top of you unexpectedly.
Much like broken torsion springs or cables, you do not want to try to operate your garage door while it is off track. It could derail it father, damage the track, damage the door, damage the opener…you get where we're going with this. You don't want to damage more parts and incur and more repair costs than necessary. Also like broken torsion springs or cables, you don't want to try and do this one yourself. Like we said, those doors are heavy. They can cause a lot of damage if they are not realigned properly. Discount Garage Door has several trained professionals who have the experience to properly repair your garage door quickly and efficiently and get you back on track in no time.
Specializing in garage door repair, garage door opener repair, spring replacement, new overhead garage door installations and garage door openers for Tulsa and the Tulsa area including Owasso, Sand Springs, Broken Arrow, Sapulpa, Jenks and Bixby, Discount Garage Door is a factory authorized retailer and services all the major brands. Call us today at 918-234-DOOR to schedule your garage door service!
Residential Garage Door Installation – Tulsa
FREE ONLINE QUOTE Click Here to Call Now!
Your garage door is one of the main features of your home. On the average American home, the garage door takes up a third of the front of the home. It conveys a visual statement of your style and taste in your neighborhood and we know you want it to look good. A garage door is also an important safety feature. The garage door is the most common entrance to the home—even more so than the front door. More than 70 percent of people say they use their garage as the primary entrance to their home.
With a piece of machinery this large, that you count on to let you reliably in and out of your home multiple times a day, you don't want to leave anything to change. You want a top-of-the line door, installed and serviced by trained, experienced professionals who are experts in their field. You also want to make sure that, while it works reliably for you and your family, it keeps everything and everyone else out as well. The garage is a large opening into your home. Without the right door to protect it, your home can be vulnerable to break ins by criminals.
The installation of a new overhead garage door is a significant investment in your home. Your garage door can take up to half of the front of your house and is often the largest single feature that can be seen from the street. You want it to be safe, reliable, attractive, durable and dependable. Discount Garage Door acknowledges this and puts in the time and effort that our customers deserve. We treat you and your home with care and work hard to make sure we listen to your wants and needs and match you with the door that is best suited to you and your lifestyle.
While we know this is a big investment to make, we can tell it is an investment that will pay off in safety, peace of mind and your home's resale value down the line. You might not be thinking about putting your home on the market now, but did you know that installing a new garage door is one of the most attractive things to prospective home buyers? Because of the added curb appeal and security that a new garage door brings, it has one of the highest returns on investment of any home improvement project.
We carry and install a wide range of Wayne Dalton residential garage doors. Whether you're looking for a wood garage door, steel garage door, fiberglass garage door, steel garage door with wood overlay or any other kind of door, we can match you with the right one at the right price point for you. And if you don't find a door that suits you in our Wayne Dalton gallery, we door create custom garage doors to meet your specific needs.
We install, repair and service all types of residential overhead garage doors in the Tulsa area. Discount Garage Door specializes in residential overhead garage door repair, installation and replacement throughout Northeast Oklahoma, including Tulsa, Owasso, Sand Springs, Broken Arrow, Sapulpa, Jenks, and Bixby. Our service and quality is second to none. Call us today at 918-234-DOOR for questions, quoting, or scheduling.
Overhead Door Tulsa
FREE ONLINE QUOTE Click Here to Call Now!
Form or function? Too often it feels like you have to choose one or the other when it comes to your business. And on the rare occasion when you find something that's both functional and attractive, it's so expensive it makes your eyes water. We know how you feel. While we can't promise you that we can solve all your business' problems, we can definitely solve any commercial garage door issues you might have. The Discount Garage Door crew can help you find the right commercial garage door for your business which will work reliably, look attractive and won't break the bank.
Much like a residential garage door, you count on your commercial garage door to work reliably, day in and day out, let you and your employees in, keep any potential intruders out and protect all of your merchandise, equipment or other products essential to your business. You need a commercial garage door that can stand up to crazy weather, daily wear and tear and anything else that your day-to-day business needs require of it. At Discount Garage Door, we know that every business is unique and has unique needs. We will work closely with you to help you pick out the Wayne Dalton Commercial Overhead Garage Door that meets all your company's needs and lives up to all your expectations and requirements.
Discount Garage Door specializes in commercial overhead door systems including sectional and rolling garage doors. We carry a full line of industry-best Commercial Wayne Dalton Overhead Garage Door Systems for virtually any application of commercial and industrial buildings. Our commercial overhead garage door models are ideal for jobs that call for excellent thermal values or need superior wind load requirements. We have commercial sectional overhead doors that are designed for long life and superior strength.
Wayne Dalton rolling commercial overhead doors are an excellent choice for Tulsa and Tulsa-area storefronts, warehouses and commercial business locations. Call us today at 918-234-DOOR to speak with a commercial garage door installation professional to discuss your options and get started on your free quote. Our commercial Discount Garage Door specialists are skilled at helping you find the best commercial garage door for your business' specific needs. Our specialists are trained to answer any questions regarding custom doors, ordering and delivery of commercial doors.
Tulsa Garage Door Opener Installation and Repair
FREE ONLINE QUOTE Click Here to Call Now!
We get asked a lot of great questions by our customers. But, over the years, we've also heard a lot of strange ones, too. We've figured out that there seem to be a lot of garage door myths circulating out there. One of these common misconceptions that we run into time and time again, is that people seem to think they don't need a garage door opener. This one always leaves us a little stunned.
Picture this: it's late December and Tulsa is experiencing one of its classic winter ice storms. It's about 20 degrees outside, your driveway is coated in ice, snow is flying everywhere. You drive up to your home after a long day and now… you have to get out of your car, and venture out into the cold to manually open up your garage door. We don't know about you, but this does not sound like fun to us. And this kind of situation can easily be avoided by installing a garage door opener.
Garage door openers also have a safety aspect to them. If you're getting home late at night, the last thing you want to do is get out of your car, all alone, and fumble around in the dark trying to open up your garage door. Having an automatic garage door opener keeps you from having you leave your car in any situation where you feel unsafe because of the weather or your surroundings. Not to mention how much easier and convenient it is to push a button rather than have to manually open and close the door each and every time you leave the house!
Modern openers also come with enhanced safety features that may not have been around the last time you bought one. We can set you up with a garage door opener with a battery backup, so you never have to worry about whether or not your garage door will open during a power outage. Some LiftMaster garage door opener models now also come WiFi enabled, so you can open and close your garage door from your smartphone, tablet or computer and never have to worry about whether you left the garage door open again.
We carry top of the line garage door openers including LiftMaster and Genie and can help match you to the opener that best suits the needs of your family and your home. Specializing in garage door opener installation and repair for Tulsa and the Tulsa area including Owasso, Sand Springs, Broken Arrow, Sapulpa, Jenks, Bixby, Discount Garage Door can answer all your questions about garage door openers and which one is right for you. Call us today at 918-234-DOOR to schedule your garage door opener installation!
Location:
1205 S Gillette Ave
Tulsa, OK 74104


Phone: