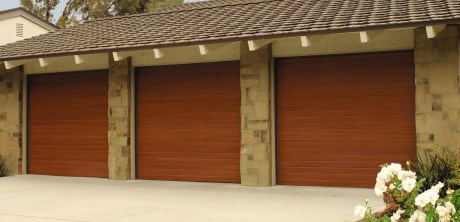 Ever wanted to have the durable construction of a steel garage door with the aesthetic qualities of woodgrain without the risk of warping, rotting or cracking? Fiberglass garage doors are easy to maintain and a variety of stained finishes can be applied to give any home a personal touch. The artfully molded wood-grain fiberglass garage door can add warmth and beauty to any home.
The Wayne Dalton™ Model 9800 is engineered with the reliability of an internal classic steel garage door refaced with a wood-grain fiberglass surface to enhance the look. With a variety of wood grain patterns and colors, this garage door model can meet a variety of aesthetic needs. The implementation of an internal steel garage door supports the longevity of this particular garage door model.
The Wayne Dalton™ Model 9800 comes in 3 distinct wood grain patterns, including oak grain, cherry grain and mahogany. The choice of pattern that adorns the door determines the ultimate wood grain used. With the variety of horizontal and vertical design patterns, homeowners can choose the design that best fits their home profile.
This particular garage door model comes with the choice of one of ten stained finishes for personalization. In keeping with the true wood look, colors reflect various types of natural wood for a more unadulterated look. Colors include mahogany, oak, walnut and several others.
With these particular designer fiberglass garage door models, 32 unique window options exist but are split between panel designs. One unique design option to further customize the look of your garage door is the addition of vertical window lines. Glass options can be found for both window types, including clear and satin etched. Panels other than the Sonoma model can receive an obscuring glass.
No door is complete without the addition of hardware to bring it all together. With the Wayne Dalton™ Model 9800, clients can choose from a variety of hardware choices made from black powder coated steel and a hand-hammered look.
If you are interested in updating or replacing your current garage door with designer fiberglass or another option, Discount Garage Door has the experience and tools necessary to ensure the process goes smoothly and you receive a garage door you are proud of. For more information or to start your free quote, please visit our online Quote Center today!