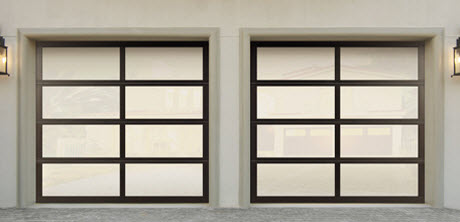 Aluminum garage doors can deliver contemporary style to accompany a clean, modern home's look. This material of garage door is praised for its easy maintenance and cleaning potential. Homes with glass expanses and patios are enhanced by a fusion of indoor and outdoor spaces when an aluminum garage door is installed.
The Wayne Dalton™ Model 8850 aluminum frame garage door utilizes the beauty of several glass pane options with the maintenance ease of aluminum frames. The unique implementation of glass panes creates a feeling of openness for the garage door while allowing light to penetrate into the garage itself.
The Wayne Dalton™ Model 8850 aluminum frame garage door comes in a variety of sizes frame sizes to achieve the look you want in the garage door. However, if the garage door is greater than 12'12" wide and a 6" frame is chosen, double end stiles must be configured to achieve a proper fit. Likewise, if the garage door is greater than 14'2" wide you choose the 6" frames, double end stiles and double tops and bottoms must be utilized.
When purchasing this model, homeowners have the ability to choose from several finish options, including anodized finishes, painted finishes, powder coated finishes and the use of custom RAL powder-coat colors. RAL powder-coat colors range throughout a spectrum and a dealer should be consulted for custom colors.
Glass takes up the majority of space in the Wayne Dalton™ Model 8850's appearance. For a more private garage door, glass such as satin etched, white laminated and obscure can be used. To maintain a clear visual path 1/8" clear glass, gray tinted, bronze tinted and green tinted glass can be used.
The Wayne Dalton™ Model 8850 also allows for an optional insulated frame. With this option internal cavities of the frame are filled with foamed-in-place polyurethane insulation to improve thermal efficiency.
If you are interested in updating or replacing your current garage door with aluminum or another option, Discount Garage Door has the experience and tools necessary to ensure the process goes smoothly and you receive a garage door you are proud of. For more information or to start your free quote, please visit our online Quote Center today!