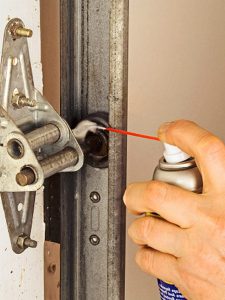 A noisy garage door can be a nightmare for people who have to work early or others in the home who are trying to sleep when another is leaving. A noisy garage door can be pinpointed to one of several components of the garage door system. Through regular maintenance, a garage door can maintain quiet functionality for years to come. A garage door system relies on several key parts to maintain quiet functionality.
Tighten Nuts and Bolts
Unnecessary vibration noise is one of the most common causes of noise within a garage door system. With time and use the nuts and bolts that minimize garage door movement and vibration can become loose. Tightening nuts and bolts in the garage door system can help cut down vibrations to produce a quieter door.
Inspect Rollers
A garage door runs on a tracking system with the help of rollers. Rollers can be made of nylon or metal and over time, both are susceptible to wear and tear. When a roller is worn, the functionality of the door is diminished and these components must be replaced. Nylon rollers are typically not as noisy as metal rollers by nature. If the rollers are in good condition, lubricating the path they travel on may also remove noise.
Broken Springs
The garage door includes two sets of springs. Torsion springs are found just above a closed door. If this spring is broken the door should not be opened until it is fixed. Torsion springs are under extreme tension and can cause serious injury if tampered with so professional help is necessary. If the spring is a source of unpleasant sounds, using a spray lubricant can help lessen the noise.
If you are experiencing a broken garage door spring or have questions about garage doors or garage door openers, give us a call! In the greater Tulsa area—including Broken Arrow, Owasso, Bixby, Jenks, Sand Springs, Bartlesville and more—you can call us at (918) 234-3667. In the Oklahoma City area, you can call us at (405) 525-3667. In Southern OKC—including Moore, Norman and more—call (405) 848-6700. In Edmond or Stillwater, call (405) 348-2000.