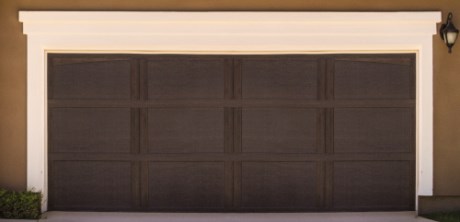 Steel garage doors have long been prized for their durability and strength. With the addition of a carriage house design, a home with one of these garage door designs can benefit from the noted strength and visual enhancements that come with this material type. Steel carriage house garage doors can add instant curb appeal to any home.
The Wayne Dalton™ Model 9700 carriage house garage door features pinch-resistant door panels to keep misplaced fingers from being smashed. This versatile carriage house garage door also comes in a variety of colors and stain options to perfectly match any home. With an impressive R-Value of 10, thermal efficiency is a top priority.
The Wayne Dalton™ Model 9700 carriage house garage door comes with a choice of 14 different panel designs that vary in availability based on the size of the door used. The unique panel designs featured in this garage door model take on the look of crafted wood without the maintenance required by it. Each panel design utilizes embossed high tensile steel panels.
With this particular model, homeowners have the option to select a factory-finished paint or stain in a variety of color options. These colors include green, gray, and clay. Dual-color designs are also available by mixing the previously mentioned colors with white trimming. Stained finishes include mahogany, walnut, oak, red oak, and Honduran mahogany. With this model, homeowners also have access to the TruChoice™ Color System to choose from more than 6,000 different colors.
This particular model has different window patterns varied between square configurations and arched configurations. These are varied by the number of individual windows that are included in the design. Glass options for this model are available in clear or obscuring glass.
As always, no door is complete without the addition of hardware to bring it all together. With the Wayne Dalton™ 9700 Model, homeowners can choose from a variety of hardware choices made from black powder-coated steel to create a hand-hammered look.
If you are interested in updating or replacing your current garage door with steel or another option, Discount Garage Door has the experience and tools necessary to ensure the process goes smoothly and you receive a garage door you are proud of. For more information or to start your free quote, please visit our online Quote Center today!
---