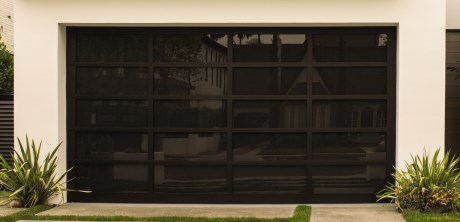 A full view aluminum garage door can perfectly compliment the look of a modern home. By installing a new full view aluminum garage door, homeowners can easily improve the visual appeal of a home's current glass expanses or patio. The biggest appeal of this type of garage door is the ability to blur the lines between indoor and outdoor spaces, to create a sense of openness.
The Wayne Dalton™ Model 8800 full-view aluminum garage door boasts a clear view panel system supported by aluminum frames. These aluminum frames are available in both powder coat paint and anodized finishes to meet a variety of preferences. This premium garage door can play an integral role in increasing the curb appeal of a modern style home.
The Wayne Dalton™ Model 8800 has 7 different panel designs that are dependent on the size of the garage door used. These can be found in single car garage door sizes as well as double car sizes. Panel amounts can range from 2 panels, all the way to 5 panels.
This particular model comes with the option of changing the color of the aluminum frame. Colors available in powder coat finishes include white, black and bronze. Anodized finishes include clear, dark bronze and black. Powder coat finish options are also available in 197 RAL colors to match the frame to the homes existing colors.
This particular model also comes with the choice of 7 different glass options. This is an important aspect because it is a full view garage door. Glass options include 1/8″ clear, gray tinted, bronze tinted, satin etched, obscuring glass, green tint and white laminated.
If you are interested in updating or replacing your current garage door with an aluminum frame full view garage door or another option, Discount Garage Door has the experience and tools necessary to ensure the process goes smoothly and you receive a garage door you are proud of. For more information or to start your free quote, please visit our online Quote Center today!
---