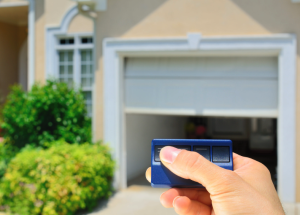 A garage door opener remote can be a pivotal item within your day-to-day life. When a garage door opener remote stops working homeowners can feel like their home security has declined. If the individual is used to entering the home through the garage, the convenience that was once available is no longer there. For these reasons, it's important to get the garage door opener remote functional again.
Troubleshooting
When troubleshooting a nonfunctional garage door opener remote, there are 3 particular items within the setup that need to be inspected. Though the garage door opener remote may not be working, it may not be the main cause. It is important to thoroughly check all components within garage door opener system to verify functionality.
Garage Door Opener Remote
One of the most common reasons for a garage door remote to lose functionality is the arrival of a dead battery. Replace the battery as needed and check for any signs of corrosion. On some older models of garage door opener remotes, you may need to reprogram the remote as it may have lost the code memory.
Sensors
When the safety sensors of a garage door system aren't working, neither will a remote. Over time, safety sensors can accumulate dust, grime and spider webs. Cleaning these sensors to ensure an absolute field of vision between them can ensure that no obstruction blocks the remotes functionality. If the sensors are clean and still not functional, check the alignment between them and inspect any wires for damage.
Garage Door Opener Unit
Power surges can be incredibly detrimental to the circuitry within a garage door opener if not properly grounded. In some garages that lack proper insulation, water damage can accumulate on the main board of the garage door opener and damage the unit. Ensure your battery or backup battery are still charged to ensure functionality.
If you are having issues that personal maintenance just hasn't fixed or would rather have a professional do it for you, give us a call! In the greater Tulsa area—including Broken Arrow, Owasso, Bixby, Jenks, Sand Springs, Bartlesville and more—you can call us at (918) 234-3667. In the Oklahoma City area, you can call us at (405) 525-3667. In Southern OKC—including Moore, Norman and more—call (405) 848-6700. In Edmond or Stillwater, call (405) 348-2000.