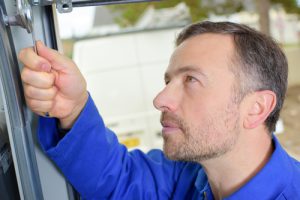 The overwhelming majority of homeowners fail to maintain their garage door properly. A garage door and garage door opener are mechanical devices that are susceptible to damage if not properly maintained.  Simple maintenance can easily be done annually, but more frequent checks will ensure the longevity of the garage door and its parts.
Cleaning a Garage Door
Cleaning the outside of a garage door can help with the aesthetic quality of the door while ensuring no grime deters motion. To clean the outside of most garage door materials, fill a bucket with detergent and water, then sponge clean with the solution. Once the garage door has been properly cleaned, rinse with a garden hose and allow to dry.
Check Safety Sensors
Modern garage door openers include safety sensors to ensure the garage door doesn't close on objects or people. It is important to test the functionality of these sensors to ensure safe operation. With the door in a closed position, clean the sensors with a soft, dry cloth and adjust the eyes is they are out of alignment. Test the functionality by breaking the invisible beam. If the garage door doesn't force open, call a technician to fix the problem.
General Maintenance
Garage door systems include a variety of small parts to ensure optimal functionality. Check the door from broken rollers or frayed cables and replace if necessary. Because garage doors undergo a lot of movement, tightening nuts and bolts will remedy loosening from vibration. Finally, lubricating all moving parts will ensure the door glides perfectly every time. It is important that only silicone spray lubricant is used and not grease!
If you are having issues that personal maintenance just hasn't fixed or would rather have a professional do it for you, give us a call! In the greater Tulsa area—including Broken Arrow, Owasso, Bixby, Jenks, Sand Springs, Bartlesville and more—you can call us at (918) 234-3667. In the Oklahoma City area, you can call us at (405) 525-3667. In Southern OKC—including Moore, Norman and more—call (405) 848-6700. In Edmond or Stillwater, call (405) 348-2000.