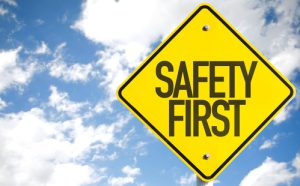 We all know the saying "safety first," but if you ask someone about garage safety practices we bet they wouldn't be able to name any. As the largest moving part in your home and the most frequently used entrance—71 percent of people say they use their garage to enter their home more than any other entryway—knowing some basic garage door and garage door opener safety is essential! So today we compiled a list of safety tips from our team and some of our most trusted partners to keep you and your family safe as you use your garage door every day:
Keep your wall-mounted garage door opener button and your garage door opener remote out of reach of small children. We recommend installing the opener button at least five feet off the ground and away from any moving garage door parts.
Only open and close your garage door when you have a clear view of it.

Make sure you see it close completely before you go inside or drive away. The last thing you want is to accidentally leave it open all day or night!

Always know how to use your garage door's emergency release feature. And make sure you protect your door's emergency release system from being tripped by burglars to gain entry to your garage.
Conduct regular DIY inspections of your garage door and its parts, and get an annual inspection from a pro to catch anything you might miss.
Along with your DIY inspection, test your garage door's reverse function by placing a 2×4 (or something of similar width) beneath the door and closing it. If the door does not immediately reverse direction when it comes in contact with the object, call us to come in and recalibrate the reverse function before it leads to a serious accident.
Consider getting a Wayne Dalton garage door with no-pinch panels. Adults and kids alike pinch their fingers in garage door joints all the time and—trust us—it's painful!
Never leave your garage door opener in your car or anywhere else outside. It can be taken from your car and used to break into your garage and then your home. Treat it like you would treat a house key.
Do not enter or exit your garage while the garage door is in motion.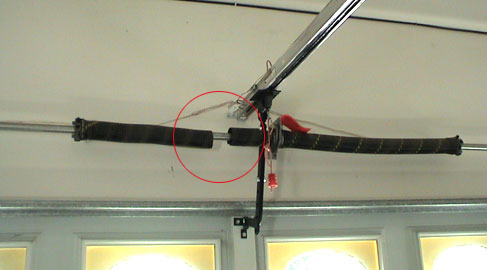 Never attempt to repair your cables or springs on your own as this can lead to severe injury or even death. This is one job you always want to call the professionals for!

Also, do not try to operate the door until it has been fixed by a professional. This could place the already damaged or broken parts under more pressure causing more damage.

Pay special attention to springs in cold weather—they tend to freeze and break more easily in the winter.
Find and read the owner's manual for your garage door and garage door opener—they will have specific safety tips and instructions for the exact model.

If you tossed it or can't find it, that's okay! You can usually find a PDF of the manual on the dealer's website.

If you're doing maintenance on your opener, make sure to disconnect it from its power source before removing the cover, otherwise you risk electrical shock.

And when you put it all back together, make sure to watch out for all the wires. You don't want any near the door or opener's moving parts!

If you bought your garage door and/or garage door opener before 1993, they don't have some important safety features that now come built-in on all doors and openers. We would strongly recommend updating to newer models with the enhanced safety features.
Clean your garage door. This may not sound like a safety issue, but regularly cleaning the door prevents a buildup of dirt and dust which can lead to problems with the door. Engaging in regular cleaning helps prevent problems before they happen and saves you money in repair fees.
If you have any more questions about garage door safety, or have a job that requires the experts, give us a call! In the greater Tulsa area—including Broken Arrow, Owasso, Bixby, Jenks, Sand Springs, Bartlesville and more—you can call us at (918) 234-3667. In the Oklahoma City area, you can call us at (405) 525-3667. In Southern OKC—including Moore, Norman and more—call (405) 848-6700. In Edmond or Stillwater, call (405) 348-2000. You can also go to the Free Quote section on our website to get started on an estimate today!