Hardscapes is the trusted name in Oklahoma for backyard improvement projects and creating a home paradise. When they needed some work done on their own 10-acre paradise in Bixby, they came to the trusted name in Oklahoma for full view and mostly full view glass garage doors: Discount Garage Door.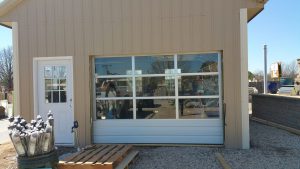 If you've ever been to Hardscapes, you know how beautiful and tranquil it is. With gorgeous gardens and expansive Koi ponds, much of their space is a peaceful oasis. They needed three doors installed on a greenhouse which required special planning and engineering due to space constraints.
The way the structure was built, the two doors on either side of the greenhouse came up so close overhead that their horizontal tracks touched. And the door on the end required a foot of high lift track to bring it up over the top of the side doors so they wouldn't interfere with one another. The Discount Garage Door crew took special care to install all of these parts so the doors would function perfectly without interfering with one another. As you can see from the picture, the tops of the doors have clear, tempered glass with light frames and full anodized aluminum panels on the bottom. They blend seamlessly into the greenhouse structure and its surroundings.
Steeltek, Inc. has long been a leader in their industry and we excited that a company that produces such a high quality of work trusted us with their garage door needs. The owner has an apartment on the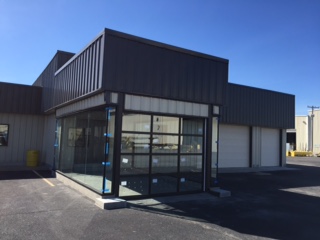 side of the facility and had a car port constructed outside the apartment. We installed a full view garage door which matched the look of the rest of the carport andinstalled a garage door opener as well. Due to the tight headroom in the carport, we had to work with the contractor to have a trough built into the space so the opener could fit without blocking the path of the door. It was a great custom job that reflects the high-tech, modern nature of the facility just next door.
One of the great things about full view and mostly full view garage doors is that you can customize this door in a variety of waysto suit your personal style. You can choose a door with thicker or thinner frames, choose from among multiple different color finish options and a variety of different glass tints for whatever level of privacy you find most desirable for your specific needs. These doors are very modern and stylish and great for all kinds of homes and businesses. They're especially great for properties with a distinct modern feel to them. These full view or partial view doors are designed to match a building's clean, modern look and are a great compliment to all kinds of contemporary architectural styles. They also provide the perfect enhancement for glass expanses and patios, fusing indoor and outdoor spaces seamlessly.
So if you're ready to talk to an expert about what a new full view or partial view garage door can do for you, give Bill Layne at Discount Garage Door a call. He can help you figure out exactly which door is right for your specific project and help get you started on completing the project of your dreams. In the greater Tulsa area—including Broken Arrow, Owasso, Bixby, Jenks, Sand Springs, Bartlesville and more—you can call us at (918) 234-3667. In the Oklahoma City area, you can call us at (405) 525-3667. In Southern OKC—including Moore, Norman and more—call (405) 848-6700. In Edmond or Stillwater, call (405) 348-2000. You can also go to the Free Quote section on our website to get started on an estimate today!