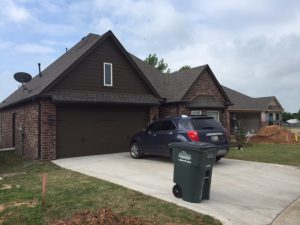 One of our favorite things about the garage door installation and repair business is all the people we get to meet and partnerships we get to form with other local businesses. Not only does it give us a chance to get more involved in the community, but it gives us a chance to get to know other business leaders and continually work on improving our craft. Currently, the Discount Garage Door team is partnering with Biltmore Homes of Tulsa to provide garage doors for all 18 of the homes being built in the beautiful Abraham's Ridge gated community in Bristow. Biltmore Homes of Tulsa is one of the premier home builders in the Tulsa area and they are the exclusive builders for this community. We are really excited to be able to collaborate on this project with them to create a beautiful community for homeowners in the area.
One of the homes has already been completed and is occupied; three other homes in the subdivision are currently under construction. So far, the Discount Garage Door crew has installed three doors for these four homes and will install the fourth door within the week! These four homes all feature the Wayne Dalton Model 9100 insulated steel garage door, but each features a unique panel design. So far, the homes that have had garage doors installed feature the Ranch design, the Sonoma design and the new Sonoma Ranch design, which is a combination of the classic Ranch and the extremely popular Sonoma.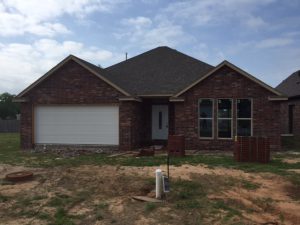 The Wayne Dalton Model 9100 is a great residential garage door choice regardless of a home's architectural style or taste. It has consistently been one of our most popular and best performing doors and it's easy to see why. As one of Wayne Dalton's most reasonably priced steel garage doors, the Model 9100 is a great combination of style, quality and value. This door includes top-of-the-line safety features which makes it a great choice for family homes. It features pinch resistant door panels and tamper-resistant safety bottom brackets.
You'll also get incredible insulation with the Wayne Dalton Model 9100 residential garage door. This steel model features polyurethane foamed-in-place insulation, which uses a patented insulating process to deliver twice the insulating capacity of polystyrene insulation (commonly used by other manufacturers) with the same amount of thickness. This will help keep your garage warmer in the winter and cooler in the summer, saving you a bundle on your utility bills. Insulated doors like this model are generally also quieter than their non-insulated counterparts and much more attractive from the inside. The Model 9100 is also incredibly reliable and durable, with horizontal integral struts that keep the door strong and operating smoothly even after years of use. The combination of these struts and the insulation enhance the door's rigidity and durability for years to come.
Customers love it for its attractive look, combining the curb-appeal adding look of wood with the value and durability of steel. It also features and incredible amount of customization options, from the panel style, door color and window choice to window glass options, lift handles and other customizable hardware. It truly feels like a custom designed garage door. And if all that wasn't enough, this door comes with available WindSafe® technology, a great feature to have with the unpredictable weather here in Oklahoma.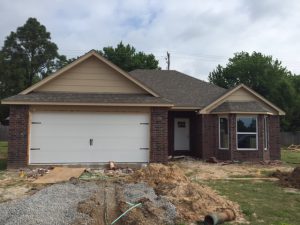 If you want to learn more about the collaboration with Biltmore Homes of Tulsa, or want to talk about setting up a similar project, call Sales Manager Bill Layne. If you're interested in talking to an expert about what a new Wayne Dalton Model 9100 garage door can do for your home, give the professionals at Discount Garage Door a call. In the greater Tulsa area—including Broken Arrow, Owasso, Bixby, Jenks, Sand Springs, Bartlesville and more—you can call us at (918) 234-3667. In the Oklahoma City area, you can call us at (405) 525-3667. In Southern OKC—including Moore, Norman and more—call (405) 848-6700. In Edmond or Stillwater, call (405) 348-2000. You can also go to the Free Quote section on our website to get started on an estimate today!