We see all sorts of garage door problems here at Discount Garage Door. Having been in the garage door repair business for as long as we have, we've seen everything from people driving their car through their door to a chain that just needs a little greasing. But, there are a few common problems we run into again and again. Here's how you can tell if your garage door is suffering from one of these issues and what to do about it.
Off-track Garage Door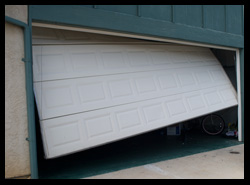 Garage doors can be knocked off track if they come in contact with objects in their path as they are attempting to close, from a car running into the door or if a cable breaks making the door unstable and uneven. It's usually pretty easy to tell if your garage door is off track because it will look pretty wonky. While this might seem like a simple job, there's a lot more to repairing an off-track door than just jostling it back into place. Garage doors are extremely heavy and when a garage door comes off track, other parts of the door (such as the cables or springs) often get damaged as well. It's important to have a professional garage door technician come out and figure out how to get your door back on-track.
Broken Garage Door Cable
When a garage door cable breaks, the door becomes inoperable. The purpose of the cables is to hold the door's weight as it moves up and down; without the cables to bear the weight of the door your garage door opener does not have enough power to lift the door up and down and it would be extremely difficult—and dangerous—for you to try to operate the door manually without the assistance of the cable. If you have a broken cable, do not try to operate the door until it has been repaired. Doing so could damage other parts of the door such as the springs, the garage door opener and the door track.
If you have broken cable, call the Discount Garage Door crew right away. We know how inconvenient it is when you can't operate your garage door and we can repair or replace your garage door cables quickly and easily so that you can have full function of your garage back. This is another job you definitely do not want to try to do on your own. Since garage door cables bear the weight of the door, they are under intense pressure and can be very dangerous to fix if you haven't been properly trained.
Broken Garage Door Spring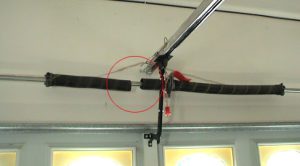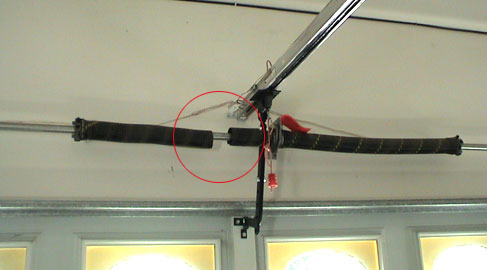 If you're having problems with your garage door not opening properly—or at all—it could be a problem with your torsion springs. This is one of the integral parts of your garage door and if it is broken (or even if it is just too tight or too loose) it will be almost impossible to open your garage door either manually or with your garage door opener and trying to use your opener with a broken spring can actually break your spring, too. This is an especially common problem in the winter when the cold weather puts extra pressure on the springs, but it can happen at any time of year.
And the longer you've had your door, the more likely a broken spring becomes as well. For the average family, a spring will last about 10 years, depending on how much you use your garage. Attempting to replace torsion springs on your own is extremely dangerous. This system is under extreme pressure and if you aren't carefully trained in how to remove and replace these springs they can cause serious injury and even death. Always call the professionals for this job. The trained, experienced technicians at Discount Garage Door can replace your torsion springs quickly and efficiently and have your door working again in no time.
If you're having trouble with your garage door, give your local garage door opener experts a call! We can repair broken springs and cables, get off-track doors back on track, repair garage door openers and more! In the greater Tulsa area—including Broken Arrow, Owasso, Bixby, Jenks, Sand Springs, Bartlesville and more—you can call us at (918) 234-3667. In the Oklahoma City area, you can call us at (405) 525-3667. In Southern OKC—including Moore, Norman and more—call (405) 848-6700. In Edmond or Stillwater, call (405) 348-2000. You can also go to the Free Quote section on our website to get started on an estimate today!