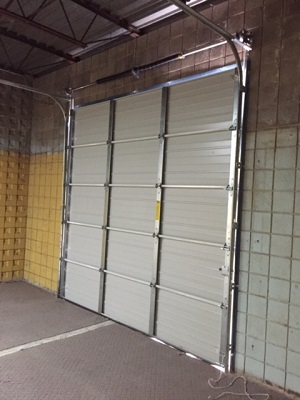 Discount Garage Door sales manager, Bill Layne recently had the opportunity to help EZ Dollar Pawn install a new commercial overhead door to their existing property. This property, found at 31st and Sheridan, is owned by Courtland Management Corporation out of Dallas, TX and required Discount Garage Door to work diligently to fulfill the client's needs.
Before the new Wayne Dalton commercial overhead door could be installed, renovations to the property had to be performed to allow for installation. Discount Garage Door achieved this by working with Black Diamond Custom Services to ensure the new commercial door could be retrofitted. To complete this process, Black Diamond Custom Services performed interior demolition and removed the existing lighting. To ensure a long lasting, waterproof fitting, they also installed a lintel and flashing.
Aside from overseeing the entirety of the project, the Discount Door team was responsible for installing the entire door system once the site had been prepped. This process included installing the new tracking, installing the door panels and correctly adjusting the spring and cable systems. Every overhead door we install, whether commercial or residential, receives the same attention to detail and precision our clients expect.
Upon completion of the project, EZ Dollar Pawn had a functional Wayne Dalton 10'x10′ commercial overhead door constructed from 24-gauge steel. Even though this door will last for years to come, it still comes with the standard 5-year parts and labor warranty. This is Discount Garage Doors way to ensure complete satisfaction and functionality!
We hope this project has given you an insight into the versatility Discount Garage Door can offer to your commercial overhead door project. If you are interested in installing a new garage door or commercial overhead door at your property, call Bill Layne today at (918) 284-3128. We can't wait to help get you the overhead door you've always wanted!