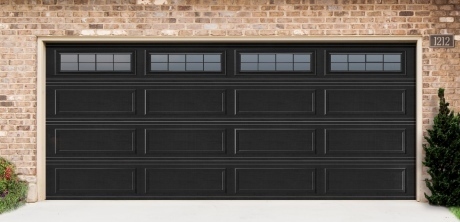 Classic steel garage doors adorn the front of most homes. With a traditional short or long raised panel design, steel garage doors offer durability at an economical price point. Due to the material used cleanup on this type of garage door will only need an occasional cleaning or touch-up to restore its beauty.
The Wayne Dalton™ Models 8300 and 8500 are classic steel garage doors that can be customized to meet a variety of preferences and styles. The Classic Steel Garage Door series has insulation implements to ensure the resistance of heat flow. The Model 8300 uses a polyurethane foamed-in-place insulation to achieve an impressive 12.12 calculated R-value. The Model 8500, however, uses the same insulating technology but achieves a calculated R-value of 16.22.
The Wayne Dalton™ Models 8300 and 8500 classic steel garage doors come in 6 unique pattern designs, including Colonial, Ranch, Sonoma, and Contemporary. For the Model 8300 a Sonoma Ranch pattern is also available. With the variety of panel styles available, a design that meets your overall vision is easily attainable.
When choosing this particular garage door, a variety of coloring options are available. With standard paint choices in a range of neutral colors or the addition of the Wayne Dalton® TruChoice™ Color System over 6000 custom color choices are available. For those interested in the classic wood look without the hassles associated with caring for a true wooden garage door, pre-painted wood grain finishes are available in Golden Oak, Walnut, and Mission Oak.
With these particular classic steel garage door models, over 60 unique window options exist but are split between model number and placement on the garage door. One unique design option to further customize the look of your garage door is the addition of vertical window lines on the Colonial, Ranch, and Contemporary panel designs. Glass options can be found for both window types, including clear and gray tinted. Special orders can receive a satin or obscuring glass based on the model used.
No door is complete without the addition of hardware to bring it all together. With the Wayne Dalton™ Models 8300 and 8500, clients can choose from a variety of hardware choices made from black powder-coated steel and a hand-hammered look.
If you are interested in updating or replacing your current garage door with wood or another option, Discount Garage Door has the experience and tools necessary to ensure the process goes smoothly and you receive a garage door you are proud of. For more information or to start your free quote, please visit our online Quote Center today!