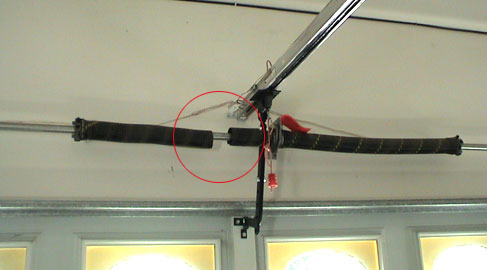 The typical garage door can weigh over 500 pounds and relies on springs to create tension to easily lift it. When one of these springs breaks, the force exerted from being so tightly wound can inflict serious injuries to someone nearby. The garage door contains two different types of springs. At the top of a garage door, torsion springs attach above the closed garage door, while extension springs rest on the upper tracks.
Assess the Situation
If a garage door has started to make an off noise during operation, such as squeaking, it may be remedied by adding lubricant. If after adding a proper lubricant doesn't change the sound, the garage door spring may be weakening to the point of breaking. At this point some individuals may want to tackle the problem on their own, but this can be very dangerous. Calling a professional is the best possible option for the unfortunate situation.
Reasons for Professional Help
Professionals have the equipment needed to safely and properly change a torsion or extension spring. This also means that the trained professional can also install the springs with the correct tension levels. One common issue that can be found without professional help is an imbalance in the door. Without the proper tools to safely and correctly do the job, the door can run into new problems.
One of the most dangerous aspects of changing a broken torsion spring is properly winding the spring. When a torsion spring is being wound the tension causes power to build up within the spring. If the spring comes undone or breaks the spring can twist like a helicopter blade. For this reason, seeking professional help is the safest option you can have.
If you are experiencing a broken garage door spring, or have questions about garage doors or garage door openers, give us a call! In the greater Tulsa area—including Broken Arrow, Owasso, Bixby, Jenks, Sand Springs, Bartlesville and more—you can call us at (918) 234-3667. In the Oklahoma City area, you can call us at (405) 525-3667. In Southern OKC—including Moore, Norman and more—call (405) 848-6700. In Edmond or Stillwater, call (405) 348-2000.