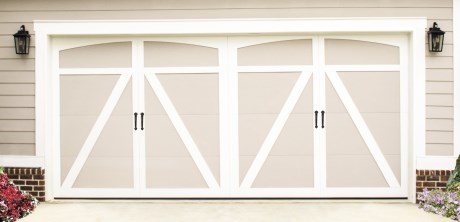 Carriage house garage door designs can look like swinging stable doors, but contain the same functionality as modern garage doors. With the option to add large windows and decorative hardware, homeowners can get the perfect carriage house style garage door to meet their unique architectural style.
The Wayne Dalton™ Model 6600 is constructed with two layers of steel, polyurethane foam insulation and DecaTrim™ II overlays. This garage door model is built to be durable and stylish. With 16 different design styles, this carriage house design garage door will be the perfect complement to any home.
The Wayne Dalton™ Model 6600 can be chosen with an arched top or square top style. Arched type designs can only be found in solid panel form only. Single car door garage door designs for this model are for doors up to 12" wide, however, double car door designs will be implemented for doors wider than 12". This garage door model includes a smooth overlay standard with the order, but woodgrain overlays can be added at no additional charge.
This particular garage door model comes in a variety of colors including all white or two-toned variations including almond, taupe, brown and black. The trim of the Wayne Dalton™ Model 6600 will always be white, while the paneling color will vary based on color choices.
With this garage door model several window options exist but vary depending on the door design chosen. Windows are available for both the DecaTrim™ II overlays and woodgrain overlays. Another window option for cold weather environments is the 6600C cold environment window options. These windows provide two plastic frames to further protect the door from harsh environments.
As always, no door is complete without the addition of hardware to bring it all together. With the Wayne Dalton™ Model 9800, clients can choose from a variety of hardware choices made from black powder coated steel and a hand-hammered look.
If you are interested in updating or replacing your current garage door with a carriage house style or other option, Discount Garage Door has the experience and tools necessary to ensure the process goes smoothly and you receive a garage door you are proud of. For more information or to start your free quote, please visit our online Quote Center today!