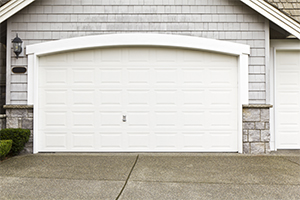 A garage door takes up a hefty chunk of the façade of a home. Whether we like to admit it or not, if a garage door looks worn down and faded from sun exposure, the curb appeal of a whole home can suffer alongside it. When a garage door needs a little TLC, a new coat of paint can make a world of difference. When buying paint to recolor a garage door, it's important to get enough to cover the entire surface and avoid color matching issues. In general, one gallon of paint will suffice.

Prepping the Garage Door
Over time garage doors will accumulate dirt, spider webs and various residual debris from storms. Before a garage door can be painted it is important to prepare the surface. In order to allow new paint coats to adhere the door must be sanded prior to painting. Ensure residual dust is removed from the door by cleaning it efficiently with a rag or old brush.

Painting the Garage Door
Prepare the paint by uncapping your new paint bucket and stirring it to remove separation. This should be done even if it was shaken at a paint store! Pour out a quart of paint at a time into another vessel for use on the door. One the paint has been poured replace the cap tightly on the original container.
When painting a garage door, it is important to begin at the bottom. If you have an automatic garage door opener, make sure it has been disengaged to allow manual control of the door. To avoid bending over to pain move the door up to allow leverage. The door gasket should not be painted unless it was prior to this paint job.
Painting panels one at a time will ensure even coats and no missed areas. The extreme ends of panels may be difficult to paint, but mistakes will be remedied later if you decide to paint the trim. To finish make sure you have painted the edges of the upper and lower panel. Once the paint has dry, the garage door will look good as new!