It's storm season once again in Oklahoma, and that means we're due for a few power outages over the next couple of months. We don't have to tell you how much of a pain it can be when the power goes out. It can be annoying and inconvenient to lose lighting and the use of appliances and other electronics. It can be downright dangerous if the power outage lasts for an extended period of time and you lose your air conditioning during a heat wave or the ability to use your car and enter and exit your home because you can't operate your garage door.
No matter where you live and what you use your garage for, it's important to know how to manually operate the door so that you never have to feel trapped and unsafe in the event of a power outage. Thankfully, modern garage doors have been built with these issues in mind and are fairly easy to open without power. So when the power goes out, grab a flashlight, head out to the garage and follow these steps:
Carefully inspect your garage door's torsion springs and cables. If they are broken you should call a professional right away to come out and replace them. Never try to open a door with broken springs or cables and never try to replace these parts on your own as they can cause serious injury or even death.
Find your garage door operator. This is the large, mechanical device (usually a box) that sits on the metal rail attached to the garage door opener. Then locate the manual release cord dangling from the operator—it should have a bright red handle.
Grip the manual release cord and firmly pull straight down until you see a metal piece slide out of the garage door operator and feel the garage door disengage.
Once you have done this, and the door is disengaged, it will be fairly easy to lift by hand.

If the door continues to resist you, there could be a problem with the door, the torsion springs or the cables. Make sure to call a professional to come check it out.

Find the handles located near the bottom of the garage door and use them to pull the door up and open.
Once the power comes back on, you can easily reengage your garage door opener. Open the door and pull straight down on the emergency release cord, like you did to disengage the opener. 
Battery Backup Garage Door Openers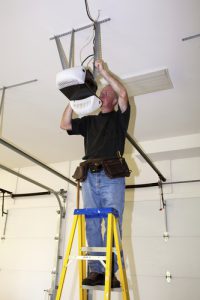 It's always good to know what to do in an emergency. But wouldn't it be nice if you never had to worry about how to manually open your garage door in an emergency? You have plenty of other things to worry about, and this shouldn't be the issue keeping you from feeling like your fully prepared for an emergency. That's why we highly recommend battery backup garage door openers to all of our customers. One of the best models is the LiftMaster Elite Series 8550W.
When the power goes out, the battery backup system in this garage door opener automatically kicks in. You don't have to do anything special to activate it, just use your garage door opener remote or wall control the same way you normally do, and it lasts for six days. So whether it's a summer thunderstorm, a winter ice storm or a pesky squirrel knocking out the power, you never have to worry about whether or not you'll be able to access your garage or use your car. The battery backup system will always have you covered.
If you have any more questions about garage door safety, preparing your garage for storm season or have a job that requires the experts, give us a call! In the greater Tulsa area—including Broken Arrow, Owasso, Bixby, Jenks, Sand Springs, Bartlesville and more—you can call us at (918) 234-3667. In the Oklahoma City area, you can call us at (405) 525-3667. In Southern OKC—including Moore, Norman and more—call (405) 848-6700. In Edmond or Stillwater, call (405) 348-2000. You can also go to the Free Quote section on our website to get started on an estimate today!