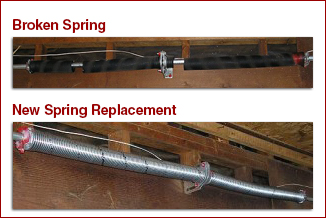 As temperatures dip—and then go back up, and then go back down because this is Oklahoma—garage door parts are put through the ringer. One of the pieces under the most strain are your garage door springs, which have a tendency to break as the seasons change.
Though springs may look like a simple part—and some home improvement blogs will tell you this is a job you can do yourself—you should ALWAYS call a professional to replace broken garage door springs. These springs are under an enormous amount of pressure and using the wrong tools or mishandling them could lead to serious injury like loss of limbs or even death. Thankfully, the Discount Door Crew is highly trained and can replace these parts for you quickly and safely so that your garage can be back in working order when you need it most.
If you are having trouble with your garage door springs, or any other garage door parts, make sure to call the experts at Discount Garage Door. We can have it fixed for you in no time. In the greater Tulsa area—including Broken Arrow, Owasso, Bixby, Jenks, Sand Springs, Bartlesville and more—you can call us at (918) 234-3667. In the Oklahoma City area, you can call us at (405) 525-3667. In Southern OKC—including Moore, Norman and more—call (405) 848-6700. In Edmond or Stillwater, call (405) 348-2000. You can also go to the "free quote" section of our website to get started on an estimate today!