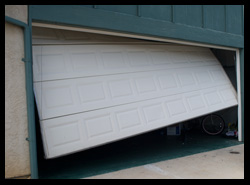 A garage door is one of the most important functional pieces on a home. Unfortunately, garage doors are often overlooked until they develop a problem that could have easily been avoided. A non-functional garage door can be frustrating, so Discount Garage Door has compiled this list of common garage door problems and their potential causes.
Closes Too Quickly

When a garage door closes too quickly, or slams closed, it can create a potentially dangerous situation for both individuals and personal property. Often the culprit for this behavior is the loosening of springs or cables, relieving the tension that helps counterbalance the garage door's weight. Adjusting this tension can be very dangerous, so it is recommended that professional help is utilized.
Excessive Noise

Some garage door openers are inherently noisy and standard movement noise cannot be avoided. However, excessive noise can be an indicator of a larger problem or one that is developing. Often garage door noise can be attributed to the loss of lubrication and build-up of dirt and grime within the tracking system. Cleaning the tracks and properly lubricating them can help ensure smooth operation.
Sticky Movement

A garage door that sticks during movement is often the most difficult to determine the cause of. Many different factors, including an unevenly hung garage door, can cause a garage door to stick. When this problem is faced, it is important to check springs and cables as well as any sensors or batteries that are within the system.
If you are trying interested in a new garage door system or you are experiencing issues with your garage door opener, give us a call! In the greater Tulsa area—including Broken Arrow, Owasso, Bixby, Jenks, Sand Springs, Bartlesville and more—you can call us at (918) 234-DOOR. In the Oklahoma City area, you can call us at (405) 525-DOOR. In Southern OKC—including Moore, Norman and more—call (405) 848-6700. In Edmond or Stillwater, call (405) 348-2000.