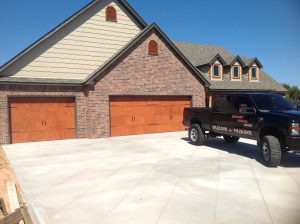 We have all seen the classic steel overhead doors with the all too plain standard raised panels. In fact, most of us probably have these same doors on our own garages. Discount Garage Door offers the classic steel garage door with many custom panel styles so you can now say good-bye to that boring design and get a new modern design that brings out your own personal style.
While these overhead doors still have the raised or recessed panels, they now come in several different designs. Many of our customers have chosen the Sonoma design due to its modern streamlined look. The steel garage door not only comes in different color options, but also has several window styles to choose from as well as many different hardware options.
If you have children, our 9100 or 9600 model is a great choice for your family. These two models are not only insulated, but offer outstanding safety features. The most important one being the pinch resistant door panels. This safety feature is engineered to help eliminate injuries caused when your little one's fingers are caught in the door panel joints during operation. The panels actually help push fingers out of harms way if they are ever accidentally placed near one of these joints.
Another great safety feature to consider is the TorqueMaster Counterbalance; which is exclusive to these doors. It houses the door springs inside a steel tube. This design helps prevent injury that could result from the accidental release of tension. The TorqueMaster Counterbalance also includes an anti-drop safety device so if the spring should break while the door is open, the device will stop it from free falling.
So go ahead and give Discount Garage Door a call today to have a new safety minded modern steel overhead door installed. As always we offer FREE estimates and provide all of our customers with a 5 year parts and labor warranty. We look forward to adding your personal touch and providing a safe environment for you and your family.