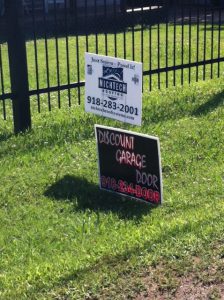 The adage that two brains are better then one may explain why Discount Garage Door appreciates the building of new business relationships. We truly believe that businesses are stronger when they work together. Among other things, good collaborative relationships with local businesses builds sustainability and resilience in our local community and its economy. That's why we're excited to announce that we will be working closely with a few new local businesses. Recently, we've teamed up with NichTech Roof Systems, HAAS Restoration, and Ranger Roofing to collaborate on several new projects around Oklahoma. We think these roofing companies have the knowledge and the skills required to complement our garage door business and we want you to know a little more about these companies and the great people who work for them.
NichTech Roof Systems, "Oklahoma's Storm Proof Roofing Specialist", was founded by Charles and Diane Nichols, who have over 25 years of experience in the roofing industry. As a full-service roofing contractor, NichTech Roof Systems' services are extensive; from re-roofing and new roof installation to roof maintenance and repair. They are an active member of the National Roofing Contractors Association and are honored with a certification that only the top 10% of roofing contractors in the nation have received. NichTech Roof Systems is a Better Business Bureau accredited company with a 100% customer satisfaction rate. They have references all across Oklahoma from customers who know they take pride in their work and value the personalized, individual attention they can give.
Building New Business RelationshipsMike Haas and his wife are co-owners of Haas Restoration. They've been proud residents of Broken Arrow since 1973 and Mike even graduated from the BA High School in 1981. Haas Restoration specializes in roofing, painting, and carpentry, but they offer tree service as well. They pride themselves in beautifying and restoring Oklahoma's homes and businesses, especially after a storm passes through. With one call, they will do everything and anything that you need!
Building New Business RelationshipsRanger Roofing of Oklahoma has been serving the area since 1996 and is known throughout our locale as THE hail and wind damage specialists. No matter how big or small a roofing project is, whether it's replacement or repair, their team can be counted on to do an efficient job from start to finish. Their roofing systems do everything from enhancing the curb appeal of properties, increasing its overall value, to providing a high level of comfort and protection that's fit for Oklahoma's rough weather. Though they're based in Owasso, their team of roofers works statewide using only the highest quality roofing tools and materials. They even offer a free roofing estimate.
But that's not all! Discount Garage Door still maintains a strong working relationship with Plum Legacy Homes and Titan Quality Roofing as well. The collaborative efforts from all of these contractors has been outstanding! We're proud to work alongside such a great bunch of people!