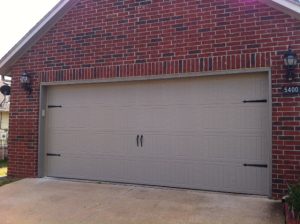 Thank you everyone who came out to see us at the Tulsa Home and Garden Show this year! Definitely one for the record books; this year's show was truly outstanding, with tens of thousands of attendees, making it Oklahoma's largest home and garden show. Discount Garage Door was one of 500 other exhibitors who attended the show. We had such a wonderful turnout this year and think it was a tremendous success! To all the folks who took the time to stop by our booths: We really appreciate you! We also want to thank all of the volunteers for the great job they did and The River Spirit Expo for housing such a huge event.
We are very proud of the Home Builders Association of Greater Tulsa for sponsoring the show and their charitable foundation for presenting a $10,000 donation to the Community Food Bank of Eastern Oklahoma's Food for Kids program. This program specifically addresses childhood hunger and ensures that children in our communities have a reliable resource for nutritious meals throughout the year. It's essential that our children don't go to bed hungry. Thank you for doing your part!
As a result of the Tulsa Home and Garden Show, we've been quite busy over at Discount Garage Door. Our new customers are extremely satisfied with the easy process of selecting a garage door that fits their home and with the quick installation from our guys. We are especially pleased to be able to show you a few of these new garage door installations. See for yourself what an improvement it makes!